Do you often have guests over for a couple of nights and need a place for them to sleep? Are you lacking in space in you apartment and can't have spare beds in there permanently? Than a folding bed is exactly what you need, and there is no need to look any further.
JAY-BE Smart Folding Bed with Airflow Mattress is a top of the line rollaway bed, which can be easily stored in small spaces and brought out when it is needed. The bed is extremely durable and comfortable and made of modern, sturdy materials for a sleek design and maximum support.
JAY-BE is also one of the most compact rollaway beds on the market, which will allow you to store it in even the most confined spaces and keep it completely out of your way.
COMFORT AND STURDINESS IS ABOVE AVERAGE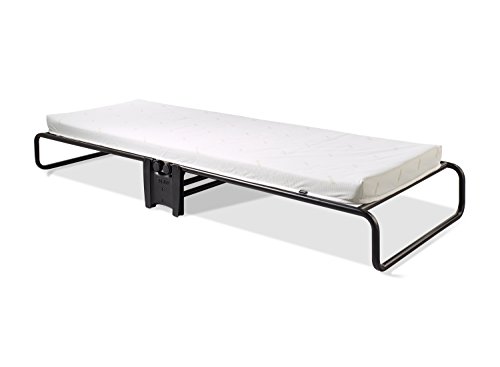 The one thing that catches the eye immediately when you take a look at the JAY-BE Smart Folding Bed is its sturdy construction lined with an extremely comfortable airflow mattress. This way, the bed gives both maximum support and sturdiness and the maximum comfort and relaxation.
In total, the bed weight only 26 pounds, supporting up to 300 pounds of weight on it, allowing pretty much anyone to have a safe and comfortable nap on it. The great amount of weight supported is allowed by the quality materials used for the construction of the frame, which comes with a lifetime guarantee from the manufacturer.
Once on the bed, the person will be able to feel the luxury of the airflow fiber mattress which utilizes the modern open cell structure allowing extra breathability and comfort. The extreme comfort of the extra breathable mattress will allow even your elderly family to feel like they are sleeping on their own bed at home, providing them the ease and support they are used to.
VERY SIMPLE ASSEMBLY AND STORAGE
Another aspect in which the JAY-BE Smart Folding Bed excels is the compactness and small storage space needed. When folded, the entire bed will be only 9 inches thick allowing you to stuff it between other furniture or under your regular bed, saving space and keeping the bed safely tucked away for aesthetics of your apartment.
No longer will you need to have a separate guest spare room, as you can easily unfold this bed at night in your own bedroom, living room or any other part of the apartment. Whether you have friends or family over, it will take just a few minutes to assemble the bed and they will have their own sleeping space ready.
Equipped with four 360 degree casters, the bed can be easily rolled away in the morning back to the storage space, giving you back the much needed space in your rooms. When the bed is unfolded, the casters will move up from the floor, making the bed more stable and letting it stand in one place.
There are few beds out there which are as easy to fold and open as the JAY-BE Smart Folding Bed and the storage space needed for it is really less than anything you could hope for.
QUALITY OF SLEEP AND MONETARY VALUE
When we wanted to talk about how comfortable it is to sleep on this bed, our best bet was looking into the testimonials of those who have slept on it in the past. According to these people, sleeping on JAY-BE has been a spectacular experience and the fact the bed was foldable seems to make almost no difference.
While most people usually expect a rollaway bed will be just a temporary solution, usually only good for younger people who can stand just about anything, this particular bed actually got high praises from the elderly as well, as sleeping in their younger family's places over holidays has never been as enjoyable before.
No more will you have to kick the kids out of their room or have people sleeping on the floor on air mattresses, JAY-BE is a truly excellent solution when it comes to spare beds and there are very few options on the market today that come even close.
But let's talk value. With regular beds often costing over a $1000 and other rollaway beds either quite expensive or really uncomfortable, JAY-BE Smart Folding Bed is an absolute gem. With an extremely affordable price, which just about anyone will find acceptable, this fantastic rollaway bed is the mix of comfort, sturdiness and price you were looking for.
PROS:
•Extreme Comfort
•Extreme Durability
•Easy Storage and Assembly
•Excellent Price
•Extremely Positive Reviews

CONS:
•None That We Could Find!
FREQUENTLY ASKED QUESTIONS:
WHAT ARE THE DIMENSIONS OF THIS BED WHEN FOLDED?
The bed is extremely compact when folded, only taking up 9 inches in depth, 40 inches in height and 30 inches in width.
WILL I BE TOO HEAVY FOR THIS BED?
That is unlikely. The bed can easily take up to 300 pounds of weight and potentially even more. If you happen to weight more, you should probably get a different bed though.
ONE OF THE PARTS SEEMS TO BE BROKEN, WHAT DO I DO?
The frame of the bed comes with a lifetime guarantee from the manufacturer. As long as you didn't cause the break yourself, you can always get it fixed or replaced for free.
 FINAL VERDICT
After looking at dozens of possible options for spare beds, the JAY-BE Smart Folding Bed really came as a shocker. The blend of value, comfort and excellence in design it provides has been more than exceptional and no other bed really matches it in these segments.
What is more, the experiences of hundreds of customers who have bought it have been nothing but positive and even the most sensitive of customers were satisfied with the support and comfort it provided.
The bed is extremely easy to fold and store as well, meaning you will spend the least possible amount of both time and space on it and you should never have to worry about where to put your guests to sleep again.
We highly recommend JAY-BE Smart Folding Bed for anyone who is looking for extra sleeping space options and at the price it comes for here at Amazon, you will certainly not go wrong.