Beds take up a large amount of space in a house—especially when placed in spare rooms or in a living space. When you have visitors, and need to make sleeping arrangements that suit them, you have the option of buying traditional beds and spending more on a mattress, after which you will struggle to keep them stored away when the visitors are gone; or buy the Lucid Rollaway Guest Bed that comes with a memory foam and have all your guests' accommodation requirements resolved for the foreseeable future. The LUCID Rollaway Guest Bed with Memory Foam Mattress is a sturdy, convenient and affordable bed that serves multiple functionalities, saves storage space when not in use, and offers great value for money.
Quality Of Build And Sturdiness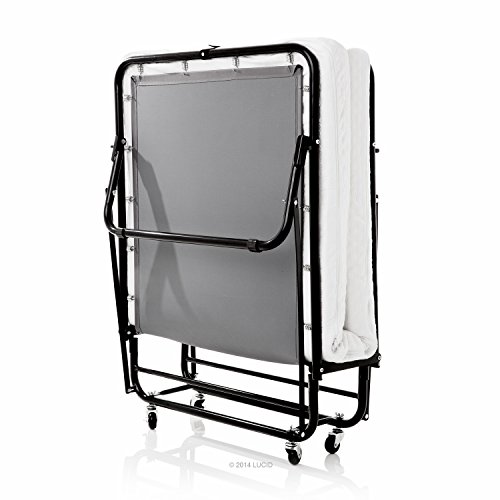 As the name suggests, the LUCID Rollaway Bed with Memory Foam Mattress is designed to provide great comfort when needed, and to occupy a small space when it is not in use. This is a great investment for someone looking for a sturdy, comfortable, and dependable bed that they can keep away for when they have guests. It comes with a 4-inch memory mattress to provide guests with the comfortable whole-night sleep they expect, and it comes fitted with wheels to make it easy to move between where it is stored and where it is set up.
One thing reviewers quickly noticed is that the Rollaway guest mattress is a soft, medium-plush and ultra-supportive mattress with an inch of memory foam and 3 inches of support foam. The manufacturers have so much confidence in its heavy-duty metallic frame that they offer an extraordinary 25-year warranty on the cot. This quick pull-out bed and mattress is ideal for guests and for children. The spring-support poly deck provides the support needed for a comfortable night's sleep for adults and children—much more dependable and healthier than the wire mesh and wood slat support that most beds have.
Basic Assembly, Disassembly And Storage
The LUCID Rollaway Guest Bed with Memory Foam Mattress is a quick-pull sturdy bed that is marketed as an ideal product for use by guests and children. The designers focused on making the bed super easy to assemble, disassemble, and roll away to storage. When you are looking for a bed that you can use to accommodate guests in your living room, or your children's friends when they are around for a sleepover, this bed is perfect because one person can conveniently roll it out of storage and assemble it. It features locking wheels, which make it easy to move the bed and lock it in place when in use, and a US certified CertiPUR memory foam that has no harmful odors, hence safe for children.
One of the top features of the Lucid Rollaway Guest bed is that it offers children and guests the level of hospitality and comfort that even traditional beds do not match, and is convenient and compact to store. The bed folds up easily for storage, with no need to remove the 4-inch foam mattress to store separately. While this bed is designed for comfort, ease of assembly and disassembly and to occupy the least storage space, it is engineered to absorb the impact of the user's weight, thereby eliminating the "bouncy" effect when being used. The two lockable wheels are designed to be functional and safe, and the bed's overall structure is engineered for strength. The steel frame is powder-coated for a lightweight and easy transportation and great support and durability.
Quality Of Sleep And Value For Money
When you decide to buy a compact and portable guest bed, the most important features to look at are the quality of build, the comfort it offers, and how easy it is to assemble for use and disassemble for storage. At this point, it is also important to determine the value for the money the bed offers by weighing the price versus the quality of sleep it provides. The LUCID Rollaway Guest Bed with Memory Foam Mattress uses a spring suspension that provides a comfortable, firm, and contoured sleeping surface that does not sag, no matter the weight of the person sleeping on it. This means that the bed offers a high quality of sleep, which you can weigh against the retail price and other options to determine if it is perfect for you.
The designers made this bed an ideal choice for use not only in guest rooms in homes but also in vacation homes, dorms, and anywhere else an extra bed is required. The bed is also easy to maintain in that you can extract the covers and wash them separately. When it is not in use, the bed folds into a compact rollable fold-up that can be stored in a garage, inside closets, and even behind cabinets. Its design features a storage strap that comes in handy when the foam needs to be secured for long-term storage or when it needs to be transported over a long distance.
With its rayon bamboo cover, the LUCID Rollaway Guest Bed with Memory Foam Mattress bed is ideal for use even by people with sensitive skins, and the temperature-regulating properties of the bamboo makes the bed perfect for use during the cold of winter and the heat of summer. Its standard cot-sized design means that any cot-sized sheets will fit on the foam with minimal effort of spreading.
Conclusion And Summary
The LUCID Rollaway Guest Bed with Memory Foam Mattress is a mini-bed that is easy to assemble and disassemble, and saves a lot of valuable space in storage. Because it is designed for comfort and durability, the frame and the foam quality are irreproachable and provide unmatched value for money when compared with what the competition have to offer or even what traditional beds have to offer.
The full-sized bed measures 74 X 31 inches and can support weight of up to 300 lbs. Perhaps the only downside according to reviewers on Amazon is that the bed requires assembly each time before use, a task which though not time-consuming or difficult, is necessary when the bed is removed from storage.
Click the above link to check it out now!