Hi, welcome to my Best Tri Folding Mattress Reviews: Top Rated Picks page on rollawaybed.net!
On this page I will endeavor to explain everything you need or want to know about these mattresses.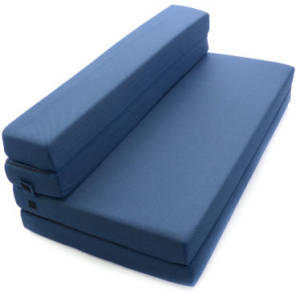 Tri folding mattresses are mattresses that fold up, they usually have three panels and fold in two places. This makes for an easy to transport, easy to store extra bed that is available in seconds.
I will examine the various benefits, review the top five best and advise you what to look for before purchasing a tri fold mattress.
You will also find a section on the best uses for these products and the best place you can purchase them.
We will examine the best thickness based on it's use. Of course we will discuss the price – after all you want the best you can buy at a price you can afford.
Whether you are going to use it in your home, travel trailer or cabin rest assured with the help of my webpage you will find the perfect tri folding mattress to suit your needs.
Tri Fold Mattress: The Top 5 Best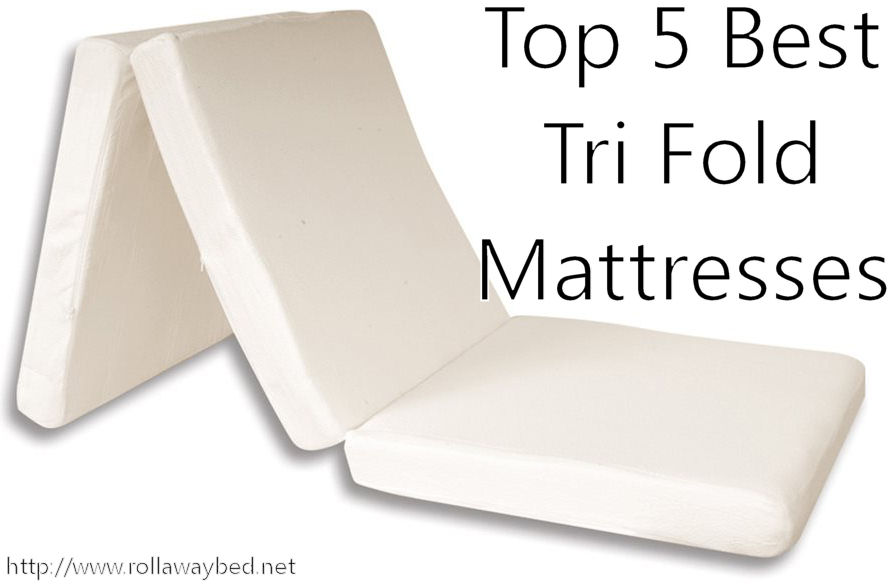 I have tried to make purchasing a tri fold mattress as simple and easy as possible. I did this by reviewing the products to determine the right choice for you based on your needs.
After all most people don't have time in their busy life to spend hours and hours pouring over pages and pages of information simply to purchase a tri fold mattress.
So, I have taken what I believe to be the top best tri folding mattresses and made an easy to use table. This table will enable you to sort your choices by size, model and price.
Each model will have a short review you can read, after all you need to know what your getting for your hard earned money.
Once you have decided on the model the rest is simple and before you know it your mattress will arrive. Then its just a matter of removing it from the box and it's ready for use.
Best Priced Tri-Fold Memory Foam Mattress Topper, 4-Inch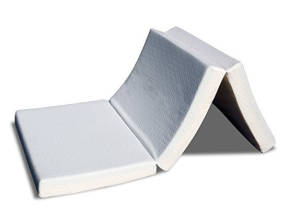 This unit is definitely one of the best priced on the market today. This tri-fold mattress is not only comfortable but offers great support.
This is due to to the overall construction – it boasts a 1.5" of memory foam infused with ActivFresh charcoals to maintain freshness.
Also 2.5" of high density base foam that give it the extra support and comfort. While the zippered cover is removable and machine washable (on cool) it's made of super soft poly-jacquard material.
Weighing in at only 12 lbs this model comes with a black Oxford carry bag for easy portability and will protect your folding mattress from dust while in storage.
The overall dimensions when open is 75" x 33" x 4". But when folded measures only 25" x 33" x 12". This makes for very easy storage.
This portable mattress is not only CertiPUR-US certified but is also an environmentally friendly sleep surface. So you can rest assured that you or your guest will be safe and happy to sleep on this foldable mattress.
This model has many useful purposes – it would be great on a camping trip, sleepovers, car trips, as well as overnight guests, making it an extremely versatile model.
So if you're looking for a great, well priced, versatile tri folding foam mattress, look no further. With sturdy construction and ease of portability this product will serve you well.
You can open it in a matter of seconds and after use simply fold and store away. Never will you have to to worry again about how comfortable your guest will be.
Check it out on Amazon and get the best price and best shipping by clicking here!
Millard 6inch Memory Foam Tri Fold Twin Or Queen Size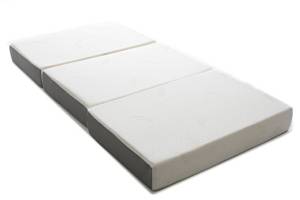 Are you looking for a twin size bed to accommodate your overnight guests? Tired of blow up mattresses that just never stay filled?
Then this 6 inch memory foam tri-fold mattress may be just what you are looking for. No need to worry about this model deflating overnight!
You or your guest can rest assured you will receive a comfortable nights sleep on this folding twin mattress, no matter where you choose to use it.
Simply unfold this foam bed in any room, mobile home, or tent for a comfortable nights sleep. Then simply fold up and store away for later use.
Memory foam is well known for it's therapeutic qualities and comfortable support. This model will allow your guest to have a comfortable nights sleep no matter what.
This unit boasts 1.5 inches of 3 lbs luxurious memory foam over a 4.5" supportive foam base to give a great sleep experience.
The mattress measures 78"x 38"x 6" when opened up. Making it perfect not only for your overnight guest but also good for travelling, camping, family reunions as well as dorm rooms.
This tri fold memory foam mattress comes with a removable jacquard ultra-soft cover with anti slip bottom. It's shipping weight is around 24 lbs making it also easy to handle.
The Millard memory foam tri folding mattress is the ideal solution for temporary sleeping accommodations for any guest adult or child.
This premium unit with superior high density construction will not lose it's shape. So all in all good quality product at a reasonable price.
Want the best price? Then check it out right here on Amazon!
Brand New Solid Color Tri Fold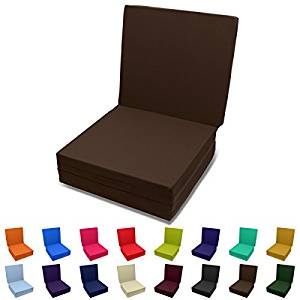 This solid color tri fold bed comes in a variety of sizes to suit everyone. The single size is 27"x75"x4", the twin size is 39"x75"x4" and the queen, 60"x80"x4".
Not only does this model offer a comfortable nights sleep but it quickly and easily folds into a comfy folding chair!
It is available in a multitude of vibrant colors to suit everyone's taste and decor. There are dark colors such as coffee and navy blue, or for the bolder person how about purple, red or olive green?
This tri fold foam mattress is made in all foam with a white foam density of 1.2 lbs. It's made from 100% polyester and is spot clean only.
This comfort 4" tri fold Bed/Mat/Mattress gives you flexibility and comfort. It can be placed anywhere you desire although as a chair it will need placing against some form of support.
The unit is easily transported, in fact the twin sized bed only weighs 11lbs! This makes it very convenient to move from room to room wherever you need it.
Use this foldable chair foam bed in your living room or move to the patio – it's very versatile. You could even take it on a boat, or along in your mini van or RV trailer.
This product is neither the most expensive you can purchase nor the cheapest. It's a medium priced bed (depending on the size of course) that quickly and easily turns into a chair, so a great price for two in one!
Want awesome shipping and the lowest price you can hope for? Check it out now!
Lucid 4" Folding Mattress, Queen Sized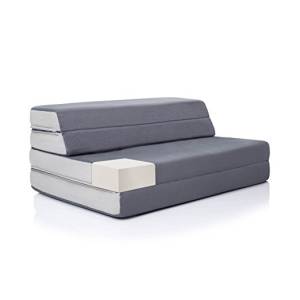 This 4" queen sized folding mattress doubles as a sleeper and a foldable chair. It goes from a convenient guest bed to a very comfy chair in a matter of moments.
Perfect for guests, children playrooms, cabins and even camping. Also you could use it in place of a futon or bunk bed or try it as a mattress topper.
Lucid is a well know name for quality and comfort and this folding mattress is no exception. This queen sized tri fold mattress measures 60"x80"x4" yet it's shipping weight is only 28lbs.
The construction of this product guarantees no prohibited substances such as mercury or heavy metals. Low emissions for indoor air quality and no formaldehyde making it safe for you and the environment.
The Lucid folding foam mattress is naturally resistant to allergens and dust mites. The imported materials were used to provide the highest level of quality and comfort.
The super lightweight and portable unit is fitted with handles for easy transport. It also has a zippered cover that is easily removed for washing.
As a tri-fold it is great for small spaces like dorm rooms and cabins. As a sofa chair it is comfortable, easy to move and very durable.
If you're looking for a guest bed or a bed for camping or just need one for the grandchildren this could be the one for you.
I'm sure this model will serve all your needs from bed to sofa chair or ottoman. It's versatility will surprise you, I feel this fold-able mattress is great value for the price.
Not only that, but:
It comes in SIX different sizes! From regular twin, all the way to king size! Awesome! Check it out!
Best Choice Products Portable 3" Tri Folding Gel Memory Foam Mattress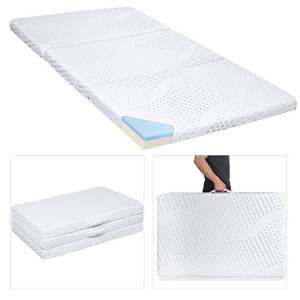 Having overnight guests can be stressful especially if you have no place for them to sleep. Have you considered a tri folding mattress?
The Best Choice Products Portable 3" Tri Folding Gel Memory Foam Mattress may be the one for you. This white, twin size folding mattress is 75"x38"x3" in size and made from good quality materials.
This product is designed with 1" of gel-infused memory foam, and boasts a 2" firm, high density foam. It's also very lightweight at only 14.5 lbs, making it easy to move or transport.
Can be used as a guest bed, futon or add it to your bed as a topper. It is designed with two handles making it portable and ideal for camping or out of town trips.
In fact it's so versatile you can convert it to a floor sofa when you don't need it as a bed. It folds down very easily for storage.
The removable polyurethane cover is machine washable with a mild soap in warm water. It is also dryer friendly, just tumble dry on low heat!
When it comes to comfort this gel-infused memory foam portable mattress is hard to beat. It's easy to carry, easy to unfold and it looks good.
Perfect for small spaces or when a regular bed is out of the question. Now you can offer your guest a ideal bed to sleep on not some blow up that goes flat during the night.
To conclude, I think this portable mattress deserves a place in the top picks. It has many good qualities as I'm sure you will discover in the event you decide this model is the right one for you.
You need to check out the free shipping and low price for this great mattress!
Benefits Of Trifold Mattresses And Tri Fold Sleeping Mats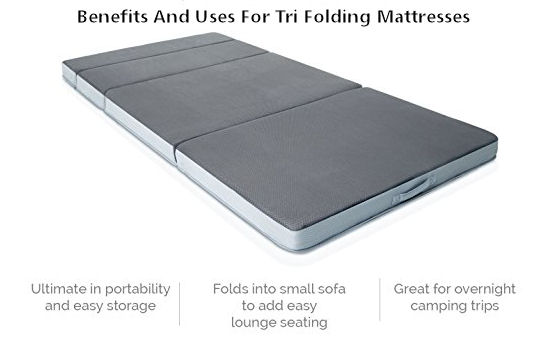 You've just received a phone call, your friend is coming to visit you from out of town. Now what will you do? Three nights seems a lot especially since you have no room.
The apartment is very small – only one bedroom plus a den that's used for storage. You have a week to try and figure it out… but it doesn't need to be a stressful week!
A regular bed is out of the question as you cannot use up that amount of space on a permanent basis. So what you need is a temporary bed, one that you can put away when not in use.
Enter the tri folding mattress! This mattress is exactly what you need and they are available in many sizes and are so versatile that some can even be used as a sofa chair when not in use as a bed.
Some of these tri fold mattresses are available in different colors to suit your decor as well as your taste. They are easy to fold and unfold when needed and of course are portable.
These products are super comfortable and they are available in different thicknesses from about 3" to 6". Many have memory foam and some are infused with gel memory foam for added comfort. There are sleeping mats too, which are a bit thinner and perfect for camping etc.
Your guest will be amazed at the support and comfort these products have to offer. You will appreciate how superior they are compared to the blow up type that seems to lose air and go flat no matter what you do.
Let's look at some benefits:
The tri fold mattress is great for guests: in fact some people may find it so comfy they wish to stay longer! Or they may plan another visit before the first ones over.
Tri-fold mattresses are available in single, twin, full size and even queen size. You can rest assured there is a model to fit any guest.
These foldable mattresses have many uses! They are great for children to sleep on, or even as a an extra bed for a sleepover, or to use as a sofa chair in a playroom or game room.
Because they are lightweight they are easily transported to a different room at any time. They are compact, durable, portable and work well in all sorts of situations.
You can take the unit with you on an out of town trip. Take it to the cabin at the lake, or use in a motor home, tent, or anywhere an extra bed is needed.
My friend for example, took his single tri fold sleeping mat with him on a hunting trip. He found it so comfortable and relaxing he vows to take it along on all his hunting and fishing trips.
When it comes to storage it's a simple matter, just fold and store away in a closet. Then when needed just bring it out unfold it and it's ready for use.
The benefits of a tri folding mattress are virtually endless! They are simple to use, easy to store and come in an array of sizes to fit every need.
All of this at an inexpensive price when compared to the cost of a regular bed. These sleeping mattresses have all the benefits and comforts of a regular bed without taking up such a large amount of space.
Your Portable Mattress: What To Look For Before Buying Tri-Fold Mattresses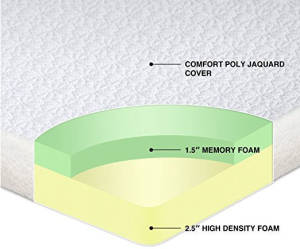 What should you look for before purchasing a tri fold portable mattress? The size should be considered first, as you will want to get the right size to fit your needs.
There are many sizes available: single, twin, full and queen size. So it depends on how many guests you will be putting up at one time that determines the size you need.
The average single mattress is 75"x27", the twin tri-fold is 78"x38", while the full is 78"x52", and the queen the largest of all is 80"x60".
The thickness of these tri folding mattresses are also different, they range anywhere from 2" to 6". Of course the thicker the model the more it will cost.
No matter the thickness you choose you can rest assured your guest will receive a comfortable nights sleep. Most have some degree of memory foam for extra comfort.
The type of foam used for the tri fold mattress varies. Several of the products use memory foam and memory foam is well known for it's therapeutic qualities, comfort and support.
One such mattress, a 6" thick one, has 1.5" of 3lb luxurious memory foam over 4.5" of supportive foam base. This makes for a great sleep experience!
Another trifold is 4" thick and has a 1.5" of memory foam infused with ActivFresh charcoals to maintain freshness, along with 2.5" of high density base foam for added comfort.
Most are labelled CertiPUR-US certified. So you can rest assured that it has been tested and is not made with any CFCs , ozone depleters or any lead, mercury, heavy metals or formaldehyde.
Whatever size or thickness of a tri-fold mattress you choose, I'm sure your guests will be comfortable as they are made with extremely good quality materials.
These units are very easy to use, they fold quite easily and when open have 3 equal sections. This allows you to use it flat or it can be folded into a sofa chair for added convenience.
Now even though this product folds up it is still very comfortable when laid flat and don't worry the folds do not interfere with your guests ability to sleep well!
You will find most of the folding portable mattresses are covered in soft polyester material with a zipper so they are easy to remove. Most can be machine washed on a gentle cycle and dried on low heat.
The units are lightweight and therefore very easy to transport and have numerous uses. For example it could be used for a childs playroom, watching television, games night or even camping.
Whatever you use it for, and I'm certain you will find all sort of uses I believe you will find it one of the best purchases you have ever made.
Best Uses For A Portable Tri Fold Sleeping Mattress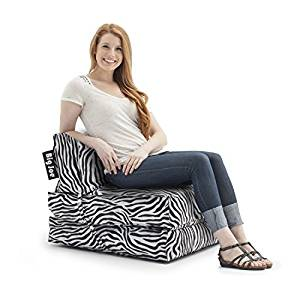 Portable Tri folding mattresses are a cost effective, convenient way to have an extra bed whenever you need one. For, say, that unexpected guest who arrives out the blue for a couple of days.
They are not only convenient but also very comfortable. They are available in different sizes and thicknesses so are able to accommodate any size guest.
Similar to rollaway beds, they have many valid reasons for purchasing one.
Does you child long for a friend to sleepover? But sadly you do not have enough room for an extra bed. The single size tri fold would be perfect, when not in use simply fold and store in the closet.
These sleeping mattresses are also perfect to relax on while watching TV, playing video games, reading a book, listening to music or just taking an afternoon nap.
Some of them are able to be folded and used as a sofa chair, available in numerous different colors there is sure to be one to suit you as well as your decor.
Tri fold mattresses can be used anywhere, for instance as an extra bed on a camping trip, hunting or fishing trip. You can use it in your RV or cabin these mattresses work well just about anywhere.
How about as a replacement unit for that old roll away bed you've had for the last 20 years (maybe it's time to choose a new one?). Your guest will certainly appreciate it.
The larger models can be used similar to a futon. A sofa by day and a comfy bed at night, just throw on a couple of blankets and a pillow and you are ready for a great nights sleep.
However you decide to use your new tri folding mattress, I'm certain you will find plenty of uses for it. You can rest assured it's very durable and will last many years.
Are Memory Foam Mattresses Better Than Regular Foam?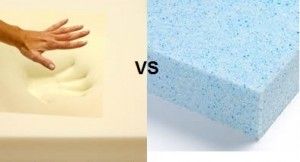 When it comes to purchasing one, you may wonder which is better, a foam tri fold or memory foam tri fold. And yes there is a difference between the two types of foam.
The foam mattress is made of polyurethane – the same foam used in many sofa cushions. It is primarily made of compounds derived from petrochemicals.
There are different densities of polyurethane foam, the higher the density the more durable. But even high density foam is less dense than memory foam.
Although mattresses made from regular foam are less expensive, they are also less durable and do not provide the best support. If you are looking for durability and support then regular foam is not for you.
Memory foam is a foam that contains added compounds that change the way it feels. These compounds give it slow moving properties.
This gives the foam a memory, it will hold your hand print for a few minutes before returning to normal. Memory foam is far more dense than regular foam.
Memory foam is also available in different densities and is far more durable than the regular foam. Memory foam offers softness and comfort as well as good support.
Memory foam molds to the sleepers body helping to relieve pressure. If comfort, durability and support are what you're looking for in a folding mattress, then the memory foam is the one for you.
Get Social! Please share, it doesn't cost a thing but means a lot to me! Thanks!