Are you looking for one of the best folding beds for your guests? Then you can surely consider this Sleep Master memory foam resort folding guest bed. This is a super cozy and comfortable twin size bed with amazing style and comfort. This is a rollaway bed which is quite durable and can be folded up and kept in a corner when not in use. With the help of this bed you can accommodate a guest at your house and give him/her a bed to sleep comfortably at night. The mattress of this bed is also made in such a way that it can provide utmost luxury and comfort to your guest. This model is one of the top 10 folding beds you can buy.
Comfort And Sturdiness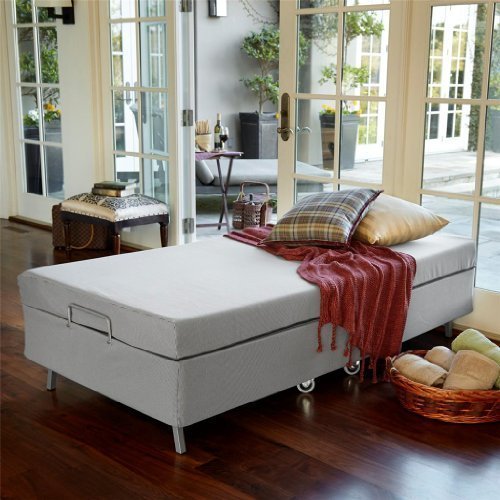 Though the bed looks sleek and stylish, it is highly durable. The bed is made up on sturdy material to ensure better safety. It is kept folded but when in need you can open it to form a twin sized bed with a dimension of 38 inches x 75 inches x 19 inches.
The highest quality foam is used in this Sleep Master resort folding guest bed which is certified by CertiPUR-US to ensure better performance, durability as well as content. So, you can trust this bed a lot in terms of sturdiness and safety. You can use this for a long time.
It has a 5 inch mattress along with 1 inch of the memory foam as well as 4 inches of high density base support foam. This foam is soft and very comfortable. It will give your guest the best and most comfortable sleep during night even when he/she is away from home.
It is built with the latest form of memory foam which helps to absorb the moisture and keep your mattress fresh by eliminating the odors. You can feel like sleeping in one of the most comfortable and premium bed throughout the night.
Assembly And Storage
There is no need for any assembling. You just have to open the folding bed which is kept folded securely with the belts and straps. When you want to use this rollaway bed you can simply unhook the straps and open the bed. It will open into one twin bed along with memory foam mattress which is super comfortable and cozy. You can easily open this mattress and use it anytime you want. Guest can appear anytime and it is not always possible for accommodating everyone. An extra folding bed can be a great solution to this problem.
It will be a bit difficult to carry this from one floor to another or from basement to upper floors. It is quite heavy and two persons at a time will also find it quite difficult to carry. That is why you should store it in a place or floor where you can simply unfold the bed and lay it for your guest.
This will be the best one for them. You do not have to buy extra bed and take up the space of your house. Folding bed is the best one for this purpose when any of guests visits you.
Quality Of Sleep Offered
It is very much known to everyone that a proper night sleep can make the mind and mood fresh. So, you need to make sure that your guest is getting appropriate and proper sleep while staying at your house.
For that you have to provide the right bed to your guest so that it can offer great sleep to your guest. With the best quality mattress and memory foam, this rollaway bed can definitely offer best sleep to the guests. Your guest can enjoy great and comfortable sleep even while staying away from their house.
Value For Money
No doubt, it is highly profitable and totally value for money. There is no point investing on a normal bed when you can invest much lesser on this Sleep master memory foam resort folding guest bed and get the same feel like sleeping on a bed. The mattress is really cozy and comfortable and you will not feel any kind of irritation or uneasiness while sleeping here.
In fact, if you buy a bed then you have to allot a certain space of your house permanently for it. But, no issue is there as such in case of this folding twin bed. You can temporarily use a place to unfold the bed and use it as a bed during the sleep time and then again fold it back. It just occupies a small space when you fold it and keep it secure with the hooks and straps provided.
Why Should You Buy This Model?
Above mentioned points are enough to describe how much beneficial this rollaway bed is. If you have lack of space in your house and guests are coming now and then often at your house, then you should consider buying this bed.
It is highly beneficial and also will save a lot of space for you. Even folding and unfolding the bed is not a hard task to do. It is quite simple and easy for you to use. It comes with 4 wheels and so dragging it from one place to another or from one room to another on the same floor is not at all an issue. You need to make sure that you pull the bed wherever you want to put and then unfold it.
Conclusion
Isn't this is a perfect folding rollaway bed? It is composed of strong, durable and solid foldable frame made up of steel. The fabric on the mattress and the frame comes in matching color to give it a more of box spring and stylish look. Also the super comfortable and cozy mattress set is available with the folding guest bed itself. You do not have to buy it separately.
The 1 inch of memory foam featured in this bed make sure that you get the super cozy and most comfortable sleep keeping it fresh and adjustable to your body shape and temperature. Even it comes with superb odor control feature which makes sure that you do not have any hindrance or irritation that interrupts your sleep at the middle of the night.
You can find out why this is one the top rated folding guest beds available by simply clicking this link and checking it out on Amazon!