With a rollaway bed available, there is no problem finding space to accommodate your visitors. It is a handy invention that provides a comfortable place to sleep with no effort. Also, it is a convenient resting place because it can easily be folded and stored in a closet or some other corner of the house as it occupies only a small space. Besides serving as a guests' bed, it is also perfect for camping since it comes with a bag to allow for easy portability.
Comfort In A Bag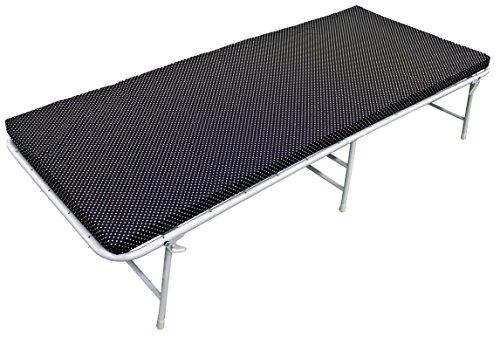 The iBed in a Box Hideaway guest bed is the perfect bed for condos and camps, although it serves equally well when you're overwhelmed by the number of visitors in your place, and you don't have adequate space and beds for them.
It has been designed with comfort in mind, as it comes with reasonably thick, soft foam and an extra inch of fiber padding to add comfort. It is a sturdy bed that can support an adult of up to 275 pounds. Its length is that of a standard bed, six feet to be precise, even though it is not as wide.
However, it is large enough to afford you or your visitor the kind of comfort that is amazing and it compares well to the other foldable beds we have reviewed in it's price category.
Sturdy Build, Excellent Support
The rollaway bed has been designed with strong frames made of steel and locker legs for extra stability. You won't have to worry about improvising additional support for the bed because it is much stronger that it seems.
The steel frames used are firm enough to provide a comfortable sleep for ordinary individual weights. The same structures are used to fold it into a smaller package that can be stored in a closet or even under the bed. For purposes of portability, it can be put in a bag and carried as less-bulkier luggage.
How To Assemble, Dismantle, And Store Your iBed
The hideaway guest bed is the easiest-to-handle thing you'll ever come across. It requires absolutely no prowess to convert into a bed or to fold. The steel rails are self-folding, with the joints visible to guide whoever is using the bed. The best part is that it folds readily into a slim package that resembles a bag.
In case you want to dismantle it for cleaning, the spring foam is easy to remove from its cradle. To protect it from damaging, however, it is advisable to use bare hand because other equipment might result in a cut or two on the soft foam. You want your asset to last for a long time, so the only way to achieve that is by taking good care of it.
How you store the folded bed determines how long it is going to last. It should be stored independently, and without any weights placed on top. Placing it under other heavier stuff could cause the steel frames to weaken, or to fail to fold and unfold. In addition to storage, the bed should be stretched and set on an even surface to ensure that the stands are not compromised. It comes in a convenient size, meaning that it is perfect even for those homes with limited spaces for extra facilities like ordinary beds and furniture.
Sleep Like A King, You Deserve It
Whether you are in your condo, or you're out camping, the rollaway bed gives you the perfect sleep that you so yearn for. It might not be the large bed you're used to, but let's face it; you only use a small section of your king-size bed back at home.
The iBed in a Box has been designed to give you enough space to enjoy uninterrupted sleep where ever you are. The joints are well-fastened to eliminate any creaking sound that might cause you or other people disturbance. One of the ways of maintaining your small bed is by assembling and disassembling carefully and without unnecessary force.
The foam that makes up this portable bed is made from a soft tissue, and a thick padding is provided to ensure that you rest comfortably. Another feature that makes this bed convenient is its weight. You will need no reinforcement to carry your bed to the spot you feel more comfortable in. As a matter of fact, you can easily move your stuff in the middle of the night without raising the attention of others you are sharing the room with.
How About The Cost?
Believe it or not, you're not going to get this kind of comfort at a cheap price. However, with the rollaway bed, you are assured of comfort that comes at an unbelievable bargain. Going for only about $120.00 ti $140.00, this can be termed as a massive steal on your part.
The whole package is of high quality, and the service you're bound to get is out-of-this-world. It is simply one acquisition that guarantees you value for your money, considering you're going to use many times other than the weekend you're hosting your visitors.
If you are that outgoing fellow who never misses out on camping, this is the ideal bed for you. Gone were the days when you had no option other than sleeping on your uncomfortable sleeping bag. The iBed in a Box Hideaway guest bed comes in handy for many situations you'll be faced with in the future. There is no point waiting to make a purchase when your visitors are already at home.
Our Summary Of The Guest Bed In A Box
Now that you know about the rollaway bed and its advantages, you can reorganize yourself and make arrangements to have one or two ibeds in advance. You never know what might happen in the future, and there is nothing as embarrassing as your esteemed guest finding you unprepared to accommodate them.
Surprise them with comfort they might perhaps never have imagined. Accommodating your guests should not be an issue, sotake advantage of the discounted price on Amazon and save some money for other purchases.